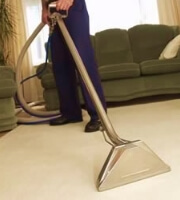 A nice looking, clean carpet gives a more healthy and luxurious look to your house. As such, carpets are very important in a home. However, they are always exposed to dirt, cigarette smoke, allergens such as pollen, mold, odors, spilled drinks, pet stains, mold, and dropped food among others.
That is why, carpets can still be looking clean while in essence they are a breeding place for bacteria and other disease-causing microorganisms. Ensuring that your carpet is cleaned every six to twelve months is the only way to keep its original appearance.
Our professionally trained experts will offer you the best carpet cleaning services. We use safe and powerful chemicals to ensure that your carpet is cleaned thoroughly. These are meant to remove all the germs and other disease from the fibers.
Carpet Cleaning in Notting Hill
Prices
Hallway carpet

from £

4

Bedroom carpet

from £

23

Living room carpet

from £

25
Minimum call out charge £48.
We also use the most advanced machines to ensure that the carpet cleaning services meet the needs of our clients in a special way. With these machines, our experts are able to perform the steam cleaning process which gives the best results.
Cleaning a carpet using how water extraction can be done by implementing different methods. There is a one-stage method and six-stage method of steam cleaning a carpet. The one-stage method is old fashioned. We use the six-stage method in delivering our carpet cleaning services. The stages are as follows:
Stage 1: We pre-spray the carpet with cleaning solution that is biodegradable
Stage 2: We assist with stain and spot removal as well as in soil separation, and then we agitate the carpet rotary
Stage 3: Any stain or spot remaining is treated
Stage 4: The carpet is then steam cleaned
Stage 5: To ensure that there is no residue that is left in the carpet; carpet rinse is applied for pH balance
Stage 6: Deodorizer application
Our carpet cleaning charges are inclusive of stain removal and normal spotting. Extra treatment and procedures of removing extra stains that may have remained after steam cleaning your carpet will be discussed with you later.